Stemosphere is a digital web publication that corresponds to a science communication course at the University of Iowa. Students receive instruction from guest lecturers with experience in science, web development, and strategic communication. As part of self-directed outreach projects, students are given the opportunity to manage and contribute to Stemosphere. Individuals that generously contribute their work are featured below.
2017
Jorge Moreno is a biology major currently conducting research in the Neiman lab, which uses New Zealand mud snails potamopyrgus antipodarum, to study questions of why sex is so common. He focuses on questions regarding the genetic consequences of asexuality, more specifically how transposable element proliferation and genomic expansions are affected by mode of reproduction. His future plans include pursuing an PhD in biological engineering.
Elise Kerns is an English major with a strong passion for research advocacy and public scholarship. She has been involved with research in the Rhetoric Department for over a year studying Art House cinema and cult film culture. After graduation she hopes to pursue graduate school and a career as a Public Affairs Specialist for underfunded STEM programs.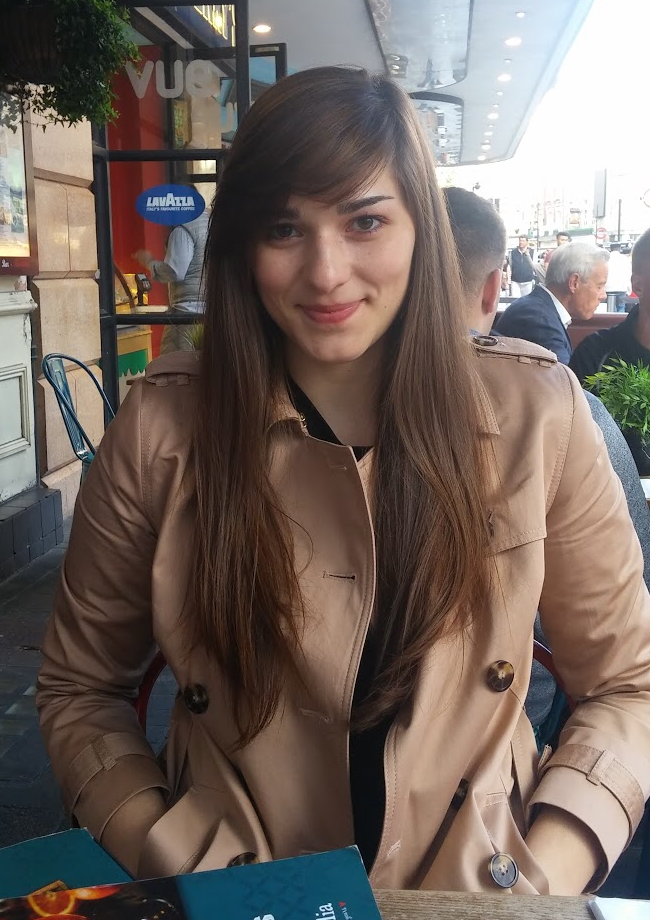 Cassandra Poulos is a junior majoring in Biology on a Pre-PA track. She conducts research in Dr. Diane Slusarski's lab at the University of Iowa using zebrafish to investigate candidate genes for cataracts. In addition to her research, she is also a biology ambassador giving tours to prospective students. As the administrator of Stemosphere, she hopes to bring science into the lives of as many people as possible.
Kelsey Willardson is a senior undergraduate at the University of Iowa, studying Health and Human Physiology. She plans to pursue her master's degree in Public Health and is currently doing research with the Iowa College of Public Health Center for Emerging Infectious Disease, assessing disease risk for those with outdoor and animal exposures, as well as cultivating protocols for using dried blood spots to test for zoonotic diseases. Her time at Iowa has inspired her to use her love of science to help others and she is very excited for her future within public health.
Alyson Glynn studies Environmental Sciences at the University of Iowa. Her main areas of focus are sustainability, wildlife preservation, and non-profit organizations. She enjoys working with children, teaching them about the environment, and getting them excited about STEM fields. She spends her free time reading anything she can get her hands on and doing volunteer work for her local nonprofits.
Timothy Fuqua is a senior biology student at the University of Iowa and wants to pursue an MD-PhD to continue his research and medical career. Currently, he conducts research in the Erives lab using fruit flies (Drosophila melanogaster), and studies gene regulation and development. His favorite part about science is answering questions there are no answers to. He is completely addicted to coffee, and in his free time, he loves to make music.
Mason LaMarche is a third year Health Sciences major. He conducts research in the lab of Dr. John Manak, and he is also a part of the Personal Genome Learning Center with Dr. Bryant McAllister. Mason has an interest in studying cleft lip and palate genetic disorders through the Manak lab. His work through the Personal Genome Learning Center involves holding community outreach events to explain genetic science. After graduation, Mason plans to pursue an M.D./MPH
Maria is a biochemistry major and is currently working in Dr. Madeline Shea's lab in the biochemistry department. Her research project deals with an enzyme, Calcineurin, that is important in muscle development, heart development and in activating the immune system. Calcineurin is also a target of immunosuppressant drugs, which have various negative side effects. Her research seeks to elucidate the mechanism of activation of Calcineurin so that better immunosuppressant's may be developed in the future.
Nicholas McCarty is a biochemistry major with a certificate in Clinical and Translational Science. He conducts research on diabetes and heart failure in the laboratory of E. Dale Abel, MD, PhD. Nicholas' ongoing research is investigating the regulation of glucose transporters within the heart. He plans on pursuing an MD/PhD in biochemistry.
George is an undergraduate student and aspiring creative voice currently pursuing a B.S. in neurobiology. He is particularly interested in exploring how decentralized, cross-disciplinary efforts may create a more engaging and readily accessible learning process. In his opinion, an absence of clear and impactful communication is the primary obstacle to a peaceful and sustainable world. He hopes that his work, both academic and personal may reduce this barrier.
Visit his website: www.georgecmurray.com
Kasra is a junior majoring in Biomedical Engineering and Biochemistry. His research interests involve the combination of basic research and engineering-based projects. Some of his current projects include developing software and related tools to understand the disease mechanism of several major cause of blindness, as well as developing accessible tools to screen for blindness.